Learn how to Manage Your Online Poker Bankroll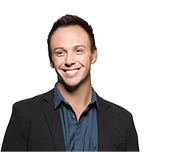 By Carl Bevin
Editor in Chief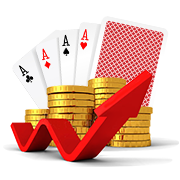 Bankroll Management is a Vital Skill for Success with UK Online Poker Players
As an online poker player, it's important to understand the basics of bankroll management. It's easy to blow through all the money you have in your poker account if you aren't actively working to preserve that money and make the most of it. When you're playing for real cash that's something that you have to work at all the time. Poor bankroll management is one of the main reasons that poker players lose their money, so take the time to learn how to handle your money properly and you'll have more exciting times to look forward to.
Organisation is Key to Online Poker Bankroll Management
The first step to protecting your money is by excluding your poker money from the rest of the casino games. The money you have for poker should only be used for that purpose, and nothing else. If you have a casino account that you use for multiple games, rely on a spreadsheet to keep track of how much money you have to spend on poker only, and track that amount up or down based on what happens at the table.
Choose Cash Games Based on Your Total Bankroll
The bankroll that you have available should dictate which games you can play in but more importantly, what limits you can handle and which you should avoid. If your total balance is too low for the game that you're joining you're much more likely to lose your money and end up having to make another deposit to your account.
The trick to online poker bankroll management is knowing what you can afford to play and what you should avoid. The simple chart below explains how many buy-ins you should be able to cover before playing in the game. When talking about cash games the buy-in is the maximum amount you can have at the table, and this is always what you should be playing with. The tournament buy-in is the amount that you pay to get in.
Cash Games
No-Limit Hold'em (6 Max) - 50 buy-ins
No-Limit Hold'em(9 Max) – 40 buy-ins
Omaha Pot Limit (6 Max) – 100 buy-ins
Omaha Pot Limit (9 Max) – 50 buy-ins
Tournaments
9-player No Limit Hold'em Sit-n-go – 50 buy-ins
45-player No Limit Hold'em Sit-n-go – 100 buy-ins
180-player No Limit Hold'em Sit-n-go – 200 buy-ins
No-limit Multi-Table Hold'em – 200 buy-ins
Large field No-limit Multi-Table Hold'em 400 buy-ins
After reading through the tables you're probably a bit surprised at how high these figures are. These are moderate numbers for what you should have as a bankroll before playing each type of game. That means if you're playing at No Limit table that maxes out at 9 players and the maximum buy-in is £25, you would need at least £1,000 to play optimally. This likely seems like a great deal of money, and some players will play with less than that, but you're better off keeping that much available when playing at the .25/.50 tables, and if you don't have that much yet you should focus on the .05/.10 tables or even lower until you can build your bankroll up high enough.
By keeping enough money around for between 40 and 100 entries to a table or into a tournament you're protecting yourself against variance. Variance is caused by the completely random nature of poker, and you'll experience stretches where you have very poor hands, and others where you feel unstoppable with the excellent hands you're getting. You'll lose some of those buy-ins, but as long as you have enough money stashed away you can play right through downswings and profit when you hit the upswings.
Adjust Stakes with your Balance
A good way to focus on bankroll management in online poker is to switch up the stakes of the game depending on your current bankroll. That means you should start out at a level that you're comfortable with, and only move up to higher stakes once you've built up enough money and you feel comfortable moving up without having to worry about burning through all your money. You don't have to be a top-rated player to profit with online poker, but you do have to know your limits. While playing at the online casino you'll want to climb up as your bankroll grows, but climb back down if you lose enough to make the new higher limit uncomfortable.
The best players know how to manage their money effectively, and to do this you have to understand what size bankroll you need for different limits, and also when you should move up or down in levels. Playing poker online with bankroll management only enhances your enjoyment and it helps you keep enough Pound Sterling around to keep playing long after the fish have all run out of cash.
These pages may also interest you